Sureties Needed!
If you are legally in UK and could consider giving someone a life-changing vote of confidence at an extremely difficult moment in his or her life, please, please get in touch (see "Contact")!  More information is available under the "Bail Surety" tab above.  A useful leaflet, "How to Get Out of Detention"  is also available from BID (Bail for Immigration Detainees).
Links to Relevant Sites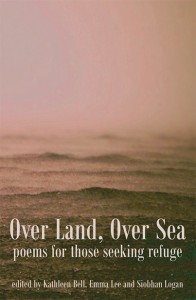 An anthology of 102 poems expressing solidarity with the refugees who are currently receiving so little welcome as they take to boats and rafts to cross the Mediterranean and make their way with difficulty through Europe. Readers are invited to take a view of the situation which is not governed by the fear and hatred whipped up by the language of media and many politicians.
The book has been produced in the East Midlands by an editorial committee, typesetter and publisher working free of charge, and the initial print costs were covered by a crowdfunding campaign. All proceeds from sales of the book will be shared between the charities: Médecins Sans Frontières, Leicester City of Sanctuary and Nottingham Refugee Forum. (link to publisher).
Contact
PO Box 192
Whitstable, Kent
CT5 1WA
Kent Refugee Help
Charity Number 1120185, Patron: Professor John Fitzpatrick, OBE, Kent Law Clinic