Sureties Needed!
If you are legally in UK and could consider giving someone a life-changing vote of confidence at an extremely difficult moment in his or her life, please, please get in touch (see "Contact")!  More information is available under the "Bail Surety" tab above.  A useful leaflet, "How to Get Out of Detention"  is also available from BID (Bail for Immigration Detainees).
Links to Relevant Sites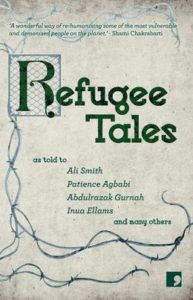 "Modelled on Chaucer's Canterbury Tales, the second volume of Refugee Tales sets out to communicate the experiences of those who, having sought asylum in the UK, find themselves indefinitely detained. Here, poets and novelists create a space in which the stories of those who have been detained can be safely heard, a space in which hospitality is the prevailing discourse and listening becomes an act of welcome.,"  For a review of the book by Tom White, recently published in The Glasgow Review, click here. To order the book click here.
Contact
PO Box 192
Whitstable, Kent
CT5 1WA
Kent Refugee Help
Charity Number 1120185, Patron: Professor John Fitzpatrick, OBE, Kent Law Clinic