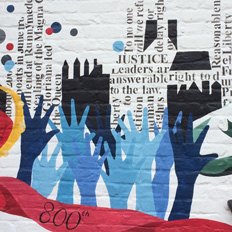 Refugee Tales: Volume 2, post by David Herd
 At the beginning of July this year the Refugee Tales project (for more about the project, click here) walked from Runnymede to Westminster, reissuing its call for an immediate end to indefinite detention and taking its message of solidarity with refugees, asylum seekers and detainees to new audiences. Once again the walk met with hospitality and welcome wherever it went, though it was noticeable this time how many politicians joined, on the route and at events. Thanks to the work of many groups and campaigners, the scandal of indefinite detention is increasingly prominent on the political agenda and Refugee Tales has contributed to this increased awareness by communicating the stories of those who have been detained.
This year's walk saw people speak with great force and eloquence about their own experience of detention. It also saw the publication of the second volume of Refugee Tales, for which once again leading writers have collaborated with people who have experienced detention, or people who have worked with those detained, to help present the experiences that are the consequence of this fundamentally cruel and inhumane system. Telling, among other others, The Smuggled Person's Tale, The Mother's Tale, The Lover's Tale, The Abandoned Person's Tale, The Student's Tale, The Voluntary Returner's Tale, The Soldier's Tale and The Walking Man's Tale, novelists and poets such as Caroline Bergvall, Jackie Kay, Marina Warner, Olivia Laing, Helen McDonald, Neel Mukerjhee and Ian Duhig create a space in which the stories of those who have been detained can be safely heard. Between them, such stories make a passionately clear case for the immediate end to a practice that breaches all declarations of human rights. By starting at Runnymede, Refugee Tales 2017 set out to remind people that it was with the Magna Carta that the principle of the rule of law was established. The UK is now in direct breach of that principle in being the only country in Europe that detains people indefinitely under immigration rules. Refugee Tales II makes the human case for an immediate end to this fundamentally inhumane practice. Buy a copy. Send one to your MP.