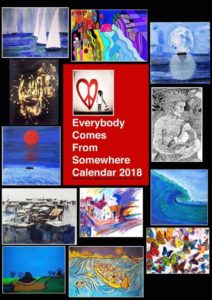 Whitstable Calais Solidarity have produced this refugee calendar featuring original art work by artists in support of refugees.
This includes work by artists who have collaborated with or donated art to Kent Refugee Help: Chris Bird, Henry Cockburn, Kadour Milnyali and Nazrin Parvaz.
You can buy the calendar at Mosaic, 30 Harbour Street, Whitstable, CT5 1AH. Telephone: 01227 276 779.
Funds will to go Kent Refugee Action Network supporting young and destitute refugees.