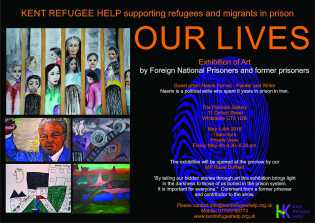 An exciting exhibition of art by foreign national prisoners and ex-prisoners will be displayed at the Fishslab Gallery, 11 Oxford St Whitstable CT5 1DB from 1-8th May.
You are warmly invited to the Private View on Friday 4th May 6.30-8.30 pm. Our MP Rosie Duffield will be attending in support of this project.
Foreign national prisoners are refugees and migrants held for deportation in prison. Kent Refugee Help assists prisoners in finding legal representation to obtain their release and appeal their deportation and so begin a new life.
This unprecedented exhibition showcases the skills of foreign prisoners and former prisoners, telling their untold stories and challenging negative stereotypes promoted by the media and politicians.
The exhibition includes painting and poetry by guest artist Nasrin Parvaz, a political exile who spent many years imprisoned in Iran. The artwork of ex-prisoners and immigration detainees produced in a workshop, The Village, led by Gary Studely of Soundlines Poets is also displayed.
A range of striking images from the exhibition will be on sale as postcards. All proceeds will go to Kent Refugee Help ensuring our essential work continues in the current climate, hostile to refugees and migrants. Please join us in this celebration of resilience and struggle.
For more information contact: info@kentrefugeehelp.org.uk